One of For Marketing Matters' 13 foundational elements in building a company's marketing foundation is its mission. See below:

Mission is an essential element of building a company's solid foundation upon which to go to market. It's commonly overlooked, misunderstood and attributed to 'when we are bigger'. Clients often scratch their heads and ask:
Is this going to be on our website? A valid question!  Our common response is, it can be, but does not have to be. it does not have to be on an office wall, but it does need to be defined, documented and shared among (at a minimum) your key employees.
We are also asked: Why do I need a mission?  Is this important for what we are working on? Fair questions so let's dig into that more to help you evaluate an existing mission statement or help you develop one that strengthens your foundation and guides your business.
A client with whom we are in the building a strong foundation phase right now has a mission statement, except it isn't a mission. It's a goal. Others provide us with what they think we want to read. An example is: We will be the global leader in XYZ services. Hmm, still not a mission.
So, what is a mission statement?
Simply, it should answer why you get up every day and do what you do. Another way to think about is what makes you tick? What do you stand for?  There are likely many other views of what a mission statement is, but for us, that is what we develop when working with our clients to build a strong foundation as depicted above.
Why does a mission matter?
As a marketing team, we thrive on the "why" – the back story for why an idea needs to be brought to market and the critical role we have in making that WHY come alive. A mission matters because it represents what you care about, what drives you and it should be what you rally all of your troops around. From evaluating potential hires to evaluating business partners and charities, a mission provides a guide, a compass and a greater purpose to what you do and why.
In terms of marketing, it literally supports your brand identity. Your mission may be the one thing that motivates you to persevere when times are tough, the economy sucks or when you are worn out, worn down and ready to give up. As marketers, developing or refining one's mission gives us insight into the business owner's heart and soul; it helps us bring you to market. A clear mission can affect sponsorships, charitable giving and word choice to resonate with the ideal target audience (note it is purposefully nestled right up against the target audience in the above graphic).
Building A Mission:
if you are not currently on a mission but want to be, consider the following to help you start crafting a mission for your business:
What talent/capabilities do you and your company have that you could share?
What are your business/corporate values?
How do you want to make a difference?
While there is so much negativity in the world, many companies, small and large, have documented mission statements to do good and make a difference. For many companies, it is their mission that guides their philanthropic efforts. As I thought about examples to share, the company that was top of mind was Target Corporation. It so happens that a beneficiary of their goodness is also For Marketing Matters' charity of choice so I am familiar with the impact they are making and saw it first hand recently.
Target Corporation:
I will never again feel guilty for a quick stop at Target that results in $200 of 'stuff'! Target does an incredible amount of good so I am happy to be a loyal customer!  For Target, their mission is represented on its website in terms of  "corporate responsibility" and "purpose and beliefs". Recently, I spent time at the Target House in Memphis Tennessee, which provides long-term housing for patients St Jude Children's Research Hospital.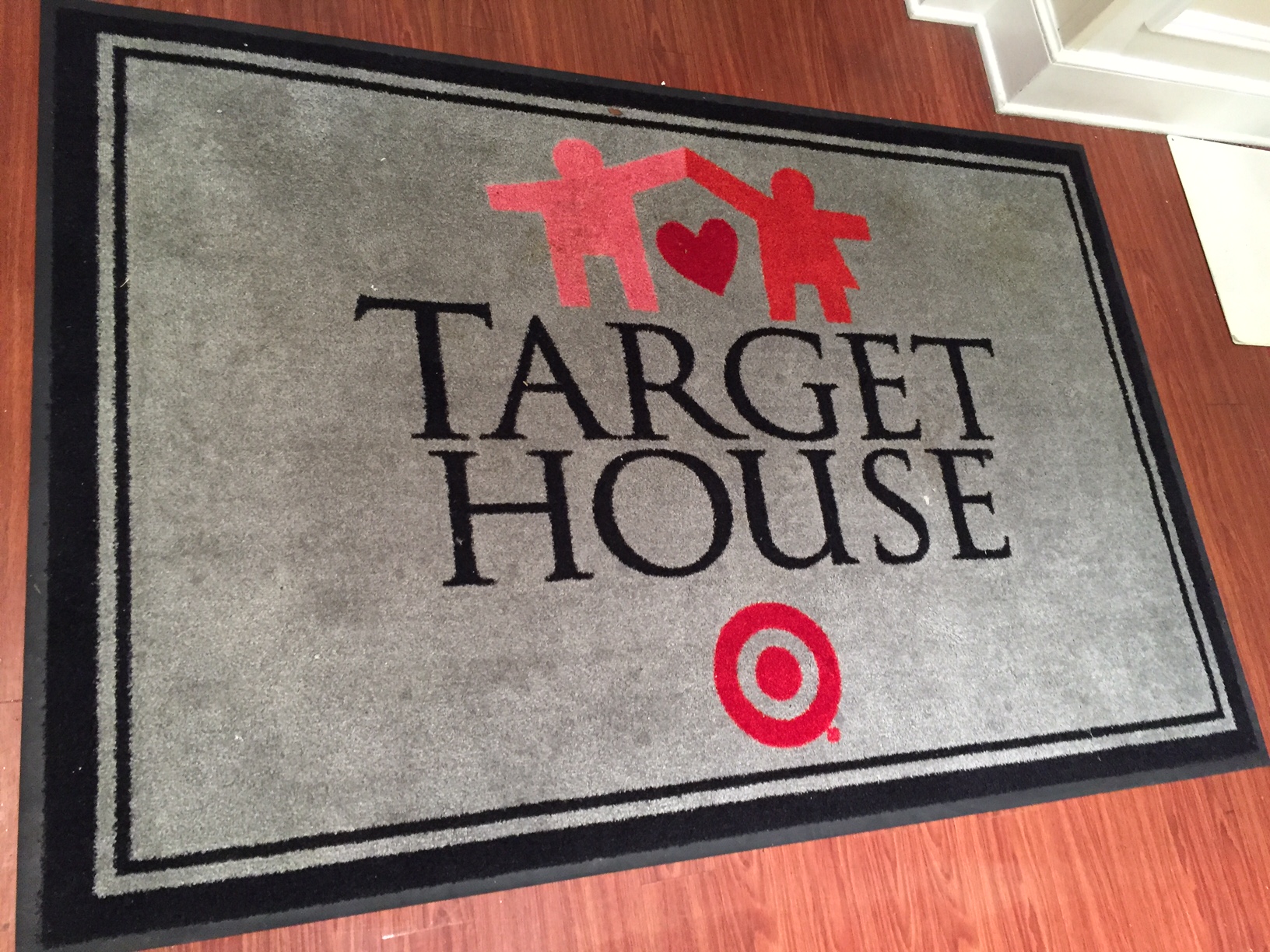 The Target welcome mat as shown is literally evident throughout this incredible home. From a music room donated and designed by Amy Grant to a family living area donated and designed by Shaun White (go to his Human page – love that!) to a theater donated and designed by DreamWorks Animation there is an incredible amount of love and generosity that permeates the entire beautiful facility. Other rooms have been designed and furnished by Proctor & Gamble and Johnson & Johnson.
Target's commitment to wellness leads directly to their building The St Jude Target House. This facility is home to patients and their families needing treatment of 2 years or more. Each family apartment is fully furnished by Target. The attention to detail was fabulous including spice racks, oven mitts and coordinated bath towels and shower curtains. It is very special what Target has done in Memphis Tennessee. Keep in mind no St Jude family pays for medical treatment or for living at Target House. Check out this video https://corporate.target.com/article/2017/05/target-house-patio-refresh
I understand Target, P&G, Johnson and Johnson are huge corporations along with Amy Grant and Shaun White being big time stars with lots of money. What struck me is they don't have to do this. What also struck me is their level of personal involvement. We all have talent and treasures to share. We all can think big and act locally and I believe that starts with defining a mission.
You don't need to be a multi-million company to be on a mission!  Being on a mission could be focused on making a difference in your own community, educating youth about your career, mentoring, coaching, being committed to a specific cause or yes, donating a portion of profits to a charity of choice,
It can start small. It can grow big. You can make a difference by developing a mission and working towards it!
Don't create a mission for the sake of checking it off your list. Do it because it will inspire you, guide you and enable you to make a difference in our world. Our world could use grass roots efforts to do good things and help others. A solid mission will invigorate you, motivate you and your team and will put a spring in your step! So put on your sunglasses, crank the music and get on with your mission!